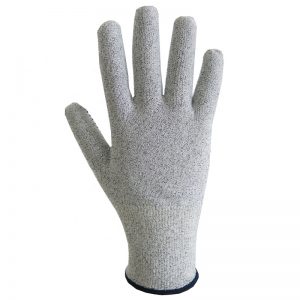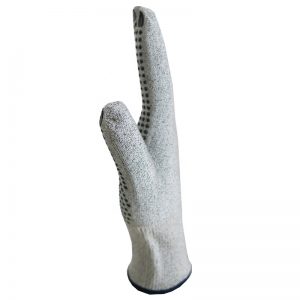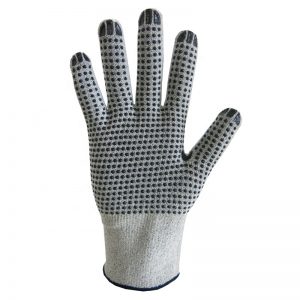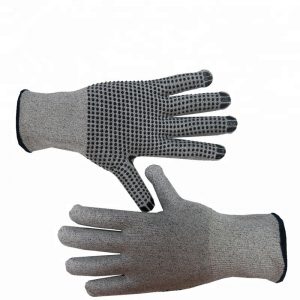 Material: HPPE + pvc point
Specifications: 13 grams
Color: gray + black
Weight: 50-65g
Palm style: pvc point
Liner: HPPE
Cuff: Knitted wrist
Level: 3, 5
Knitted nylon, not easy to lint, docile, comfortable and breathable. The inner side of the palm and the finger are designed with dispensing, which can effectively prevent slipping, and strengthen the friction during grasping, gripping and taking action, which makes the work more convenient. Gloves are comfortable to wear and separate stains. Gloves have good breathability. They are comfortable to wear after wearing. They can be used in wet or dry environments. They can be washed and reused. Elastic cuffs for a comfortable fit and not easy to fall off.
Anti cut gloves features:
Meet international standards in quality, structure and craftsmanship.
A steel wire glove has more than 5,000 stainless steel rings and stainless steel rings welded independently.
The welding between the steel ring and the steel ring is more full, can withstand greater pulling force, and is soft and compliant.
It conforms to the European standard EN1082/EN420, and the highest level of anti-cutting reaches 5 grades. It has good wear resistance and corrosion resistance.
High quality stainless steel, safe and hygienic, easy to clean, is an ideal choice for the food industry.
Humanized tailoring technology, based on ergonomic design, makes the wearer's fingers more flexible and more comfortable to wear.
All styles are equipped with an adjustable nylon belt for easy wear.
Both single and left and right hands can be used.